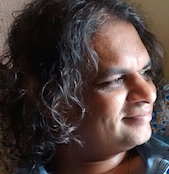 Raju Sutar
1971

Raju Sutar was born in 1971 in Pune.

In 1992 he received his Government Diploma in Art Drawing and Painting from Abhinav Kala Mahavidyalaya.

In 1990 Raju showcased his first exhibition of abstract paintings.

Raju has participated in several group exhibitions:
In 1991 he participated in Homage to Picasso, a Live Group Painting exhibition to celebrate the 110th Birthday of Pablo Picasso at Saras Baug, a public Garden & Temple in Pune. In 1993 he took part in Informals Contemporary Art Activities, Group Paintings at various Public Locations in Pune. In 1995 he created McBull at Motherland, a video about the visit of M. F Husain to his birthplace town in Pandharpur. In 1997 he participated in India at 50, a show inspired by the Indian Flag, on the 50th year of Independence at Ravindra Kala Kunj, Pune. In 1999 he participated in Art for Kargil in aid of Kargil Victims along with M.F. Husain at Holiday Inn, Pune. In 2002 he conducted workshops and a presentation at the Picasso Metamorphosis at National Gallery of Modern Art, Mumbai. In 2004 he participated in a group show at Kamalnayan Bajaj Art Gallery, Mumbai. In 2005 he took part in Deccan Contemporary Group Show at Ravindra Bhavan, New Delhi. In 2006 he exhibited in Abstract 06 at Artspace – Kolkata. In 2012 he was invited to participate in Documenta (13) in Kassel and Berlin Biennale. In 2013 he participated in Pune Biennale, the first contemporary art biennale, with an installation, Skeletal Hill in Pune. In 2013 he participated in Indo‐German Urban Mela at Pune. In 2013 he took part in scrap metal sculpture workshop and exhibition at Kirloskar Ferrous Industries, Hospet, Karnataka. In 2013 he had a Solo Exhibition at Colorida Art Gallery, Lisbon in Portugal. In 2013 he conducted a Serigraph Workshop at Amrapali Art Centre. In 2014 he conducted a workshop, Kinnal - Sawantwadi Revival Project. In 2015 he conducted a workshop at Kirloskar Ferrous Industries Limited. In 2015 he participated in X Florence Biennale 2015 at Florence, Italy. In 2015 he exhibited The Existential, a solo show at P. N. Gadgil and Sons Art Initiative in Pune. In 2016 he participated in Roots/Routes an official collateral section in the Kochi-Muziris Biennale 2016. In 2016 he participated in Smart-Aix at Aix-en-Provone, France. In 2016 he conducted and participated in KFIL Art Residency, Hampi by Kirloskar Ferrous Industries Limited in Karanataka.

Raju has won several awards:
In 1999 he won the Junior Fellowship by Govt. of India for Visual Art. In 1990 he won the Bronze Medal in the All India Exhibition of Art at Ambala Cantonment. In 1989 he won a Certificate of Merit for Creative Composition.

Raju lives and works in Pune.
View More