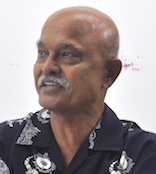 Prabhakar Kolte
1946

Prabhakar Kolte was born in 1946 in Nerur Par, Maharashtra.

In 1968 he completed his diploma from the Sir J.J. School of Arts, Mumbai. From 1972 - 1994 he was a faculty member at Sir J. J. School of Art, Mumbai.

He has held several solo shows and participated in important group exhibitions:
From 1978 - 1998 he had several solo shows in Mumbai, Bangalore, Chennai and New Delhi. From 1999 – 2007 he had various solo exhibitions in Mumbai, Germany, New Delhi, New York, Kolkata and Bangalore. In 1990 he exhibited Art-Mosaic-celebration of Kolkata's Tercentenary in Kolkata and Mumbai. In 1993 he participated in Wounds at CIMA Gallery, Kolkata. In 1993 - 1994 he took part in Parallel Perceptions at Sakshi Gallery, Mumbai. In 1995 he participated in Bombay - A Tribute to the City by RPG Enterprises, Mumbai. In 2014 he exhibited 'Deconstruction', a solo show at Gallery 7, Kalaghoda in Mumbai. In 2015 - 2016 he participated in Art for a Cause 2, Painting Dreams, Coloring Lives and Meher II - Art with a Heart at Gallery 7, Kalaghoda in Mumbai. In 2016 Kolte was showcased as a part of a group show titled as, 'The Melting Pot' - 100 works by India's Leading Modern and Contemporary Artists at Gallery 7, Mumbai.

Kolte lives and works in Mumbai.
View More