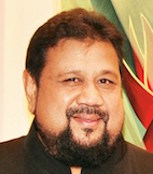 Senaka Senanayake
1951

Senaka Senanayake was born in 1951 in Columbo, Sri Lanka.

In 1972 he graduated in Art and Architecture from Yale University, Connecticut. He is one of the most sought after artists in the east. Considered as a child prodigy, he held his first solo exhibition at the age of ten. His work reflected maturity; there was nothing childlike about his paintings. His subjects, forms and depiction were all light years beyond his age. In 2005 when he visited the rainforests of Sri Lanka, he noticed its beauty and the dilemma of their extinction due to the extensive development. His focus immediately shifted to the endangered rainforest, animals, plants and insects. He then decided to paint them all in their true beauty and colors as people give it a thought on how not to lose these elements.

Senaka had several solo shows and participated in several group shows:
From 1959 - 1981 he exhibited solo in Sri Lanka, Rome, Paris, Berlin, Prague, Czechoslovakia, San Francisco, Canada, Netherlands and London. He had two successful shows at the age of nine, one in New York and the other in San Francisco, USA.

Senaka has received several awards:
In 1965 he won the Recipient Artist of Year award by Daily Mirror Newspaper. In 1980 he won an award for One of Ten Most Outstanding Young Persons and Top Artist from Sri Lanka Junior Chamber of Commerce, Sri Lanka. In 1983 he won an award for One of Ten Most Outstanding Young Persons of the World award from Junior Chamber of Commerce International.

Senaka lives and works in Columbo.
View More