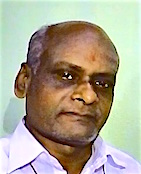 Kishore S. Nagure
1959

Kishore S. Nagure was born in 1959 in Kamalapur, Gulbarga.

In 1981 he received his Diploma in Fine Art. In 1982 he received his Art Master Diploma.

He has taken part in several group shows:
In 1984 and 1992 he exhibited in a group show at the National Exhibition of Art at Lalit Kala Akademi, New Delhi. In 1991 and 1997 he participated in group shows at the Karnataka Lalit Kala Akademi, Karnataka; New Delhi State Akademi and at the Rashtriya Kala Mela in Delhi. In 1993 and 1998 he took part in group exhibitions at the Nehru Art Centre Gallery, Mumbai. In 2015 he took part in a group show at Gallery 7, Kalaghoda in Mumbai.

He has attended several Art Camps:
In 1993 he attended the International Sculptures and Painters Symposium at Ideal Fine Art Society, Gulbarga. In 1993 he attended art camps at Bharat Bhavan, Bhopal; at Karnataka Lalit Kala Akademi and Rashtriya Art & Culture Foundation in Gulbarga. In 2015 he participated in an art camp at the Lalit Kala Academy, Belgaum.

Nagure has received several awards:
In 1995 he won awards at the All India Art Exhibitions from Chitrakala Parishat, Bangalore. In 1993 he received an award from South Zone Cultural Centre, Nagpur.

Nagure lives and works in Gulbarga.
View More