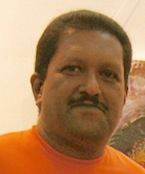 Babu Xavier
1960

Babu Xavier was born in 1960 in Kerala.

He is a self-taught artist.

Babu has had many solo exhibitions in India and Overseas:
In 1991 he exhibited solo in Denmark, Bangalore and Chennai. In 1984, 1994, 1995, 1998, 1999, 2001, 2002 and 2005 he had solo exhibitions in Kochi. In 1994 he exhibited solo in Switzerland. In 1997 he exhibited solo in New Delhi and Lunenburg University, Germany and he has exhibited at Renaissance Gallery, Bangalore. In 1998 he exhibited solo in Denmark and in 1999 he had a solo exhibition in Chennai. In 1985, 1991, 1999 and 2002 he exhibited solo at Pundole Gallery, Mumbai. In 2006, 2008 and 2009 he had showcased in Mumbai, New Delhi and Goa.

He has participated in several group exhibitions in India:
In 1985 he participated in the Sixth International Triennale in New Delhi. In 1988 and 1994 he participated in Bharat Bhavan Biennale, Bhopal. In 1999 he took part in a group show at Jehangir Art Gallery, Mumbai. In 2005 he took part in the Triennale International Exhibition, New Delhi. In 2008 he participated in 'Deeper Than Skin' at DAIRA Centre for Arts and Culture, Hyderabad. In 2009 he participated in a group show 'Entity' at M.E.C. Gallery in New Delhi and in 2011 he participated in 'Melange' in Kolkata.

In 1990 he received an award at the 20th Kerala Lalit Kala Akademi Annual Exhibition in Kerala.

Babu lives and works in Trivandrum.
View More