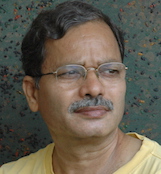 Vilas Shinde
1953

Vilas Shinde was born in 1953 in Satara.

In 1978 he received his Diploma in Fine Arts from Sir J. J. School of Art, Mumbai. In 1980 he received his Post Diploma from M. S. University, Baroda. In 2003 he studied at Ecole Nationale Superieure Des Beaux-Arts, Paris. He studied under S. W. Hayter and was invited to the Glasgow Print Studio, U. K. as part of link programme.

Vilas had many solo exhibitions:
In 1982 he had a solo show at Hall D'accueil Du Centre Albert Chatelet, Paris. In 1993 he showcased at LTG Art Gallery, New Delhi. In 1994 he had a solo show at Jehangir Art Gallery, Mumbai.

He participated in several group exhibitions:
In 1987 he had a joint exhibition with Jin Sook Shinde at Shin - Shin Art Gallery in Deajon, South Korea. In 1996 he had two people show with Jin Sook Shinde at Prithvi Art Gallery, Mumbai. In 1986 he participated in Indian festival in USA. In 1988 he participated in International Print Making Biennial in Bhopal, UP. In 1992 he took part in 17th International Independent Exhibition of Prints in Kangawa, Japan. In 1996 he participated in 'The Harmony Show' at Nehru Centre, Mumbai.

Vilas has won many awards:
In 1976 he won an award at 17th Maharashtra State Art Exhibition. In 1980 he received an award from Gujarat State Lalit Kala Academy, Ahmedabad. In 1981-1982 he received the French Government Scholarship. From 2005-2007 he was awarded Senior Fellowship from Ministry of Culture, New Delhi.

Vilas lives and works in Mumbai.
View More