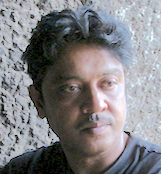 Ranadip Mukherjee
1968

Ranadip Mukherjee was born in 1968 in Jharkhand.

In 1992 he graduated from Government College of Art & Craft, Kolkata.

Ranadip has had many solo shows:
In 1991 he showcased solo at Academy of Fine Arts, Kolkata. In 1992 he had a solo show at the Tata Centre, Kolkata. In 1993, 1997, 1999, 2005, 2009, 2013 he showcased solo at Jehangir Art Gallery, Mumbai. In 1994 he had solo exhibitions at Lauderdale House Society and at Tagore Centre, London. In 1995, 1996, 2000 and 2002 he exhibited solo at Moot Hall in Brampton, UK. In 2000 he had a solo exhibition at Jane Skinner's Rectory in Oxford, UK. In 2001 he had a solo show at Taj Art Gallery in Taj Mahal Hotel, Mumbai. In 2008 he had a solo show at Contemporary Art India, Kolkata.

Ranadip has participated in several group shows and art camps:
In 2004 and 2008 he participated in group shows, 'Christian Art' and 'The Asian Womb' at Art Chamber, Goa. In 2008 he took part in Art Fusion Show at Nehru Centre, Mumbai. In 2011 he took part in the 44th Annual Show of Birla Academy, Kolkata. In 2013 he participated in a group exhibition at ION Gallery, Singapore. In 2005, 2008, 2009, 2010, 2011 and 2012 he participated in an art camp 'Art In Industry' in Jamshedpur. In 2012 and 2013 he took part in Art Fair, Singapore. In 2014 he participated in Art Expo, Malaysia. In 2015 he joined art residency programme at Trelex, Switzerland. In 2015 he participated in a group exhibition 'The Spoken and Unspoken' at Gallery 7, Kalaghoda in Mumbai.

Ranadip lives in Mumbai.
View More