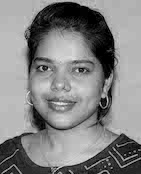 Mamatha M R
1988

Mamatha M. R. was born in 1988 in Karnataka.

In 2011 Mamatha received B.F.A. (Photography and Photojournalism) from Chamarajendra Academy of Visual Art, Mysore. In 2013 she received her M.F.A. in painting.

In 2015 Mamatha participated in the 97th All India Annual Art Exhibition 2015 and Art Society of India, Mumbai. She participated in the 87th Annual All India Art Exhibition of AIFACS, New Delhi. In 2016 she participated in the group show 'A Labyrinth of Tales - I' at Gallery 7, Kalaghoda in Mumbai.

Mamatha has attended camps and workshops:
In 2016 she attended the 'Paper Pulp' workshop by artist 'Jarrod Beck'. In 2016 she showcased at 'Sabarmathi' festival.

She has received several awards:
In 2014 she received the Inlaks Fine Arts Award in Mumbai. In 2012 she won a prize for photography in 'Technieks – 12' from the National Institute of Engineering in Mysore. In 2013 she won a Certificate of Merit in 'Frame' from 4th International Salon of Photographic Art 2013 in West Bengal and she won the gold medal in Sam Circuit – 2013 International photography competition by Wildlife Photography Association of India in New Delhi. In 2014 she won a Certificate of Merit in All India Photography Salon 2014 in Karnataka. In 2015 She received a one month residency (Sabdarbh) in Partapur, Rajasthan.

Mamatha lives and works in Ahmedabad.
View More