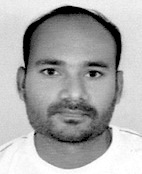 Ganesh Pokharkar
1987

Ganesh Dattatraya Pokharkar was born in 1987 in Pune.

He received his diploma in B.F.A. from Bharati Vidyapeeth College of Fine Arts, Pune.

He has participated in various group shows:
In 2006 he was invited by Bharat Bhavan, Bhopal for the senior students multi art workshops. In 2008 and 2009 he took part in various group exhibitions in India. In 2015 he participated in groups shows, 'The Spoken & Unspoken' and 'Painting Dreams, Colouring Lives' at Gallery 7, Kalaghoda in Mumbai.

He has won several awards:
In 2007 he won an award at the Annual Art Exhibition at Bharati Mahavidyalaya, Pune. In 2010 he received an award from Pune Festival in Pune. In 2010 he won the 50th Maharahtra N. C. P. Award. In 2010 he won a certificate at the Maharashtra State Art Exhibition. For the year 2012 - 2013 he won the Junior Fellowship.

He lives and works in Pune.
View More