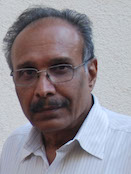 Madhusudan Kumar
1944

Madhusudan Kumar was born in 1944 in Mangalore.

He studied the rudiments of art under L. Kamat Shevgoor. He joined the morning classes at Sir J.J. School of Art, Mumbai. Kumar passed the Maharashtra Grade examination. He won the Bhulabhai Memorial Prize from Bombay Art Society in Mumbai. He executed portraits of legendaries such as Geeta Dutt, Guru Dutt, Nani Palkhiwala, Hidayatulah and Vilayat Khan Saheb.

In 1986 and 2007 he had solo exhibitions at the Artist's Centre, Mumbai.

In 2014 - 2015 he participated in a group show Meher II: Art with a Heart at Gallery 7, Kala Ghoda in Mumbai.

He has been a disciple of Ustad Vilayat Khan. In 1971 during the Bangladesh war he directed 'Symphony' a documentary on National Integration for the Doordarshan channel. He made a feature film, 'Kadambari' (based on a story on Amrita Pritam). Ustad Vilayat Khan composed the music for 'Kadambari'.

He lives and works in Mumbai.
View More