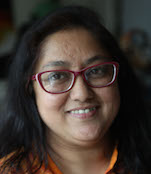 Vaishali Oak
1970

Vaishali Oak was born in 1970 in Pune.

In 1991 she received her Diploma in Drawing and Painting from Abhinav Kala Mahavidyalay. In 1994 she received her Master degree in Painting from S.N.D.T. College, Pune.

She has participated in several group shows:
In 1989 she participated in the South Central Zone Exhibition of Art, Nagpur. In 1992 and 1995 she took part in Rashtriya Kala Mela, Mumbai. In 1998 she participated in Concern India Foundation exhibition at Holiday Inn, Pune. In 1998 she took part in Art for Sustainable World in aid of Narmada Bachao Aandolan at Bal Gandharva Kaladalan, Pune. In 2003 she participated in the 45th National exhibition by Lalit Kala Akademi in New Delhi, Guwahati and Hyderabad. In 2004 she took part in Magnetism, a group exhibition at Waves Art Gallery, Pune. In 2004 she took part in Swarnarekha at Rabindra Bhavan, New Delhi. In 2005 she participated in a group exhibition at Bharat Bhavan, Bhopal. In 2005 she took part in Contemporary Indian Art at Museum of Yugoslav History, Belgrade. In 2006 she took part in Art India exhibition at National Art Gallery, Colombia and participated in Deccan Contemporary at Ravindra Bhavan, New Delhi. In 2007 she participated in Fact & Fiction at SW1 Art Gallery, London. In 2008 she took part in Swayamsidhdha at Bharat Bhavan, Bhopal. In 2009 she participated in Papier-razzi, a group show of Papier Mache sculptures at Waves Art Gallery, Pune. In 2009 she took part in a group exhibition at Lalit Kala Akademi, Chennai. In 2010 she took part in an exhibition and workshop on fresco painting at Banasthali University, Tonk in Rajasthan. In 2013 she took part in scrap metal sculpture workshop and exhibition at Kirloskar Ferrous Industries, Hospet in Karnataka. In 2013 she participated in the Pune Biennale. In 2015 she exhibited solo, Trancending Times at Nandan Art Gallery, West Bengal. In 2016 she took part in a group show, Kalagajar at Balgandharva Ranga Mandir, Pune. In 2016 she participated in Roots/Routes, an official collateral section in the Kochi-Muziris Biennale 2016.

She has won several awards:
In 2001 she received the Achiever of the Week award from Mid-Day in Pune. In 2002 she won the Junior Fellowship by Govt. of India for Visual Art. In 2003 she won the National academy award for Flow of Death (After Godhara), one of the fabric assemblage, instituted by Lalit Kala Akademi, New Delhi at the 45th National Exhibition of Art at Guwahati.

Vaishali lives and works in Pune.

View More