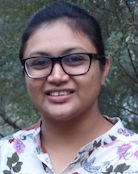 Shachi Kamble
1987

Shachi Kamble was born in 1987.

In 2010 Shachi received her diploma in painting from C. N. College of Fine Arts, Ahmedabad. In 2013 she received her post diploma in print-making art from M. S. University, Baroda.

From 2010 - 2011 she worked in Painting Studio at Kanoria Centre for Arts, Ahmedabad. In 2013 she worked in Printmaking at Chhapp Studio, Baroda. In 2014 she exhibited Black Discovery a solo show of printmaking at Amadavad Ni Gufa Art Gallery, Ahmedabad. In 2015 she received a freeship for print making for one year at Kanoria Center for Art, Ahmedabad. In 2015 she received Art junction Residency for print making at Udaipur, Rajasthan. In 2015 she participated in Pratyankan at West Zone Cultural Center, Udaipur and Bhartiya Kala Prasarini Sabha, Pune organized by National Level Print Making Workshop, Pune. In 2011 she took part in Banyan Art Show at MSU Fine Art Exhibition Hall, Baroda. In 2011 she participated in A/4 Coming together, a group exhibition at Kanoria Center For Art, Ahmedabad and Priyasri Art Studio, Baroda. In 2012 she took part in Art Scapes at Chandigarh. In 2013 she took part in the 4th Guanlan International Print Biennial – China. In 2013 she participated in Unfurl at Faculty of Fine Arts, Baroda. In 2014 she took part in Purva - 5 at Hutheesing Visual Art Center, Ahmedabad. In 2014 she participated in the Intercontinental Biennial of Small Graphic Inter Art in Romania. In 2015 she participated in A Journey through the years 1984 - 2015, an exhibition celebrating the 30th Anniversary of the Kanoria Center for Arts, Ahmedabad at Jehangir Art Gallery, Mumbai. In 2016 she participated in a groups show, A Labyrinth of Tales – III at Gallery 7, Kalaghoda in Mumbai.

Shachi lives and works in Baroda.
View More