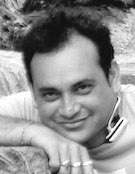 Apurba Nandi
1973

Apurba Nandi was born in 1973 in Vadodara, Gujarat.

In 1998 he received his degree of Bachelor of Fine Arts (Sculpture) from the Faculty of Fine Arts, Baroda. In 2000 he received his degree of Master of Fine Arts (Sculpture) from the Faculty of Fine Arts, Baroda.

He participated in several group shows:
In 1997 he took part in a group show at Gujarat Lalit Kala Academy, Ahmedabad. In 1998 he participated in Expressions at All India Art Competition, Karnataka. In 2004 he participated in group shows at the 47th National Exhibition of Lalit Kala Academy, New Delhi; at Sarjan Art Gallery, Baroda and at the 9th Harmony Show, Mumbai. From 2005, 2009 he participated in various group exhibitions in Baroda, Bangalore, Mumbai, New Delhi, Vadodara and Kochi. In 2006 he took part in Sculptors from Baroda at Jehangir Art Gallery, Mumbai. In 2008 he took part in Hub at Faculty of Fine Arts – Baroda. In 2009 he took part in group shows at Latitude 28, New-Delhi and at Aakriti Art Gallery, Kolkata. From 2010 – 2013 he participated in group shows in Mumbai, Kolkata, Bangalore, Pune, England, Kochi, Baroda and New Delhi. In 2017 he participated in The Winter Sale at Gallery 7, Kalaghoda, Mumbai.

Apurba has participated in several art camps and workshops:
In 2003, 2010 he attended an art camp at Rashtriya Lalit Kala Kendra, Lucknow. In 2011 he attended several art camps at Smart Studio – Ahmedabad; at Maihar, Gallery Sanskriti and at Walden Pond, Gallery Beyond. In 2013 he participated in a workshop by NM Group of institution Bhubaneswar in Odessa.

He has won many awards:
From 2001-03 he won the National Scholarship from the Department of Culture, Government of India, New Delhi. In 2006 he received the Grant of Scholarship from Lalit Kala Akademi, New Delhi.

Apurba lives and works in Vadodhara.
View More