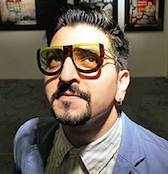 Salamat Husain
1982

Salamat Husain was born in 1982 in Mumbai.

He received his BFA degree from the State University New York in Animation & Design, followed by a diploma from the renowned Hallmark Institute of Photography. He got his first opportunity to work and participate in the New York Fashion Week followed by the Brooklyn Fashion Week.

The renowned late artist M.F. Husain, was Salamat's guide, he recollects, "He was my mentor. He'd always tell me to have my camera in hand. You never know when an opportunity strikes. And always do what you like doing and never bother about critical opinion".

Salamat's soul was always aimed for home, whilst his return gave him the opportunity to profile diverse renowned personalities, actors, artists, comedians such as Bipasha Basu, Farhan Akthar, Salman Khan, Kangana Ranaut, Vir Das and several others. He has also captured theatre through stills. "History of India – Viriitten", "Walking on Broken Das", "The Alchemist". "Two to Tango, Three to Jive", "The Big Fat City" and "Blame It On Yashraj". Salamat continues to trudge with his 25 Kilos constantly seeking and imprisoning seamless imagery, which translate, into remarkable timeless photographs.

In 2014 he exhibited solo, '25 Kilos' at Gallery 7, Mumbai.

Salamat lives in Mumbai.
View More