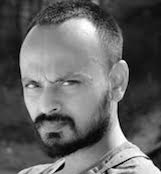 Sandeep Dhopate
1975

Sandeep Dhopate was born in 1975 in Mumbai.

In 1997 he completed his Bachelor of Engineering in Computers from Mumbai University, Mumbai. In 2000 he complete his Master of Science in Computer Science from the United States of America. In 2012 he finished his photography education from Udaan School of Photography.

He has participated in many group shows:
In 2007 he had a group show, 'Disappearing Dialogues' at Bikaner House, New Delhi. In 2013 he exhibited the 'Katari Series' at the the Focus Photography Festival, Mumbai. In 2015 he showcased 'Fighting Into Oblivion Series' at the the Focus Photography Festival, Mumbai. In 2015 he participated with the 'Protean Series' at the Goa International Photography Festival, Goa. In 2015 he took part with the 'Epistolize Series' at the Kala Ghoda Arts Festival, Mumbai; exhibited 'Fighting Into Oblivion Series' at the Athens International Photo Festival, Greece and showcased 'Protean Series' at the Dali International Photography Festival, China. In 2016 he exhibited in 'smaraNa - A Recollection Series' and 'Elysium Series' at LensCulture.com, USA. In 2016 he exhibited 'Elysium Series' at The One Fest, Goa and at Addis Foto Fest, Ethiopia. In 2017 he exhibited 'Elysium Series' in a group show at Loosen Art, Rome in Italy and showcased at An Lanntair Arts Centre at Isle of Lewis, UK.

He has received numerous awards:
In 2010 he was listed as TOP 50 Emerging Photographers in India in Lonely Planet Magazine. In 2011 he received 3rd place in the Battle of India Contest which was featured in the Forbes India magazine. From 2011- 2013 he received Honorable Mentions at Prix de la Photographie, Paris in France. In 2012 he received a Nomination at the International Color Awards at USA. In 2012 he won an award for the World Press Photo Of The Year at the Director's Choice Awards In Mumbai. In 2017 at the Fòcas Scotland he was the winner of one of six digital commissions supported by the British Council and Creative Scotland as part of the 'UK India Year of Culture 2017' to make new lens-based work that shall tour Scotland and India in 2018 in Edinburgh, UK.

He has been named by Homegrown.in as one of the top 9 artists in India who are exploring sex and sexuality in important ways.

He is also the Global Creative Manager at Lensational - a UK based NGO with presence in over 20 countries, working towards women empowerment using photography as a tool to drive change.

Sandeep lives and works in Mumbai.
View More