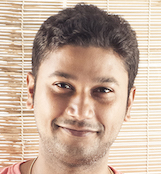 Sameer Tawde
1978

Sameer Tawde was born in 1978 in Mumbai.

In 2001 he received his Government Diploma in Architecture from L. S. Raheja School Of Architecture, Mumbai. From 2002-2004 he completed his post graduation from National Institute of Design, Ahmedabad.
 
He is a visual artist and photographer. His work has been exhibited in solo and group shows in India and abroad at Museums, Photography Biennial and film festivals.

In 2013 and 2014 he was invited for an artist residency at the FUKUOKA ASIAN ART MUSEUM, Japan and MUSEUM QUAI BRANLY, Paris. In 2012, he was nominated for the Paul Huf Award.

He lives and works in Mumbai.
View More