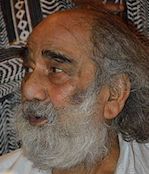 Prokash Karmakar
1933-2014

Prokash Karmakar was born in in 1933 in Kolkata.

In 1953 he passed out from Government College of Art and Craft, Kolkata.

Living in Kolkata, during the pre-independence days he experienced communal riots, wars, famine, partition and his distortion of paintings gave a profound insight into his personal experience of life.

He lost his father, print maker, Prohlad Karmakar, who died at a very early age. Prokash had to fend for himself in his boyhood and youth, finding shelter in city parks, brothels and often on railway station platforms thus making him into a true bohemian artist.

In 1968 he received an academy award of a fellowship, which took him to Paris to study the Master Painters Creation and travel across Europe. With a fusion of Eastern and Western art, he created canvases with bold strokes. He had innumerable solos and group shows.

Soon he became an institution and many young contemporary painters began to follow in his footsteps.

He passed away in 2014 in Kolkata.
View More