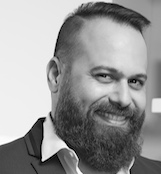 Parhad Goghavala
1974

Parhad Goghavala was born in 1974 in Mumbai.

He was sent to the prestigious Cathedral & John Connon School, where he was first introduced to the camera, dark room techniques and photography as an extra subject. Subsequently, he studied mathematics and physics and eventually graduated in subjects in which he had little or no interest. Parhad moved to London in 1996 in order to pursue another degree, Industrial Design at Brunel University, London. He also did several art and portfolio building courses at Central Saint Martins, London, strengthening his appreciation for colour, form and aesthetics.

After having dabbled with the camera on his travels and doing the basic course at the Photographic Society of India in 2001, Parhad decided to take what was a serious amateur pursuit and turn it into a professional one. He assisted commercial and fashion photographer Himanshu Seth before enrolling for the Mastercraftsman 2 year course at The Shari Academy of Photography and Digital Imaging where he learnt studio lighting techniques and how to 'see light'.

Parhad had his first show 'Images Inspired by the Art of Cocktail Making' in Association with The Bar Company in Dec 2006 at Henry Tham's Lounge, Mumbai. The commercial success of the show encouraged him to further his passion for photography and image making.

Parhad is a member of the Photographers Guild of India (PGI) and has received an award from the guild for his image 'Lasting Impressions' at their annual exhibition 'EXHIBIT A' in 2007. Keen to use the passion for his craft to give back to society, he organized an exhibition of his collection "Effloresce - Flowers of Breach Candy' at the prestigious Breach Candy Swimming Bath Trust in December 2010, where he was able to raise a considerable amount, as a 100% of the sale of the images were donated to charity.

In 2012 he was commissioned by the Ador group of companies to cover the walls of their swanky, newly designed head office at Ador House in Kalaghoda, Mumbai with his signature style of aesthetically beautiful images of their industrial plants at work.

Parhad is also a commercial photographer and has shot for high-end international Michelin starred restaurants such as Hakkasan and Yauatcha and exclusive publications such as Elle Decor. He is passionate about clicking Interiors, Food, Fashion and Fine Art.

Parhad returned to London in November 2012, where he zealously put together a vast, very impressive portfolio of fashion images shot in London till early 2014.

In February 2016 Parhad had his first serious Fine Art exhibition titled 'Arresting Developments' shot in 2008 at Gallery 7, Kalaghoda in Mumbai. The images express his love for this maximum and sometimes overwhelming metropolis. It is a voyeuristic view into the everyday lives of the people of Mumbai, using the beautiful facades of derelict buildings from the earlier part of the last century and their windows as a canvas.

Apart from shooting for well-known personalities and publications in Mumbai, he is currently working on his first highly creative fashion calendar for the year 2017. A truly international Indian photographer, he is the next big name to look out for in the Fashion and Fine Art Photography world.

Parhad lives in Mumbai.
View More