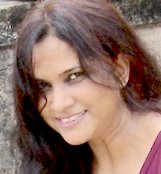 Manjushri Chakraborty
1967

Manjushri Chakraborty was born in 1967 in Kanpur, Uttar Pradesh.

In 1991 she completed her B. F. A. (Ceramic Pottery) from Kala Bhavan at Visva Bharati University, Santiniketan in West Bengal. From 2006-2008 she taught Art and Craft at Delhi Public School in Rubi Park, Kolkata. In 2016 she worked as a Ceramic Instructor at The Hobby Place in Mysore.

She has particpated in several group exhibitions:
In 2005 she particiapted in a group exhibition at Academy of Fine Arts, Kolkata. From 2005-2009 she participated in the annual exhibitions of Birla Academy of Art & Culture, Kolkata. From 2007-2009 and in 2011 she took part in several group shows at Academy of Fine Arts, Kolkata. In 2008 she participated in Kala Mela at Avni Signature, Kolkata. In 2009 she showcased in Svikriti, the Annual Exhibition of the Birla Academy, Kolkata. In 2012 she participated in a group show at Chitrakala Parishad, Bangalore and exhibited in a group show at Emami Chisel, Kolkata. In 2013 she took part in the national camp for women artists at the Lalit Kala Akademi, Bihar. In 2017 she took part in a group show at Coomarswamy Hall, Mumbai.

She has won several awards:
In 2009 she won an award at the 42nd Annual Exhibition of Birla Academy of Art and Culture in Kolkata. In 2010 she won an award at the All India Exhibition of Art in New Delhi. In 2017 she won the Prafulla Dahanukar Art Foundation South Zone Silver Medal Award in the Kalanand Art Contest at Bengaluru.

Manjushri lives in Mysore.
Manjushri Chakraborty Works
View More