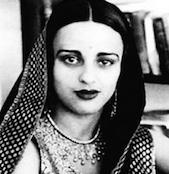 Amrita Sher-Gil
1913-1941

Amrita Sher-Gil was born in 1913 in Budapest, Hungary.

In 1912 her parents Umrao Singh Sher-Gil & Marie Antoinette moved to Budapest, Hungary.

In 1921 the Singh family returned to Simla, India. In 1924 Marie Antoinette set off for Florence along with Amrita & Indira and an Italian sculptor Pasquinelli; Amrita was admitted to the Santa Annunziata school however she resented the regimentation there and they returned to Simla within five months.

In 1927 her maternal uncle Ervin Baktay's visit to Simla became a milestone in Amrita's artistic development and she began to paint self-portraits and painting other women. In 1929 on Baktay's suggestion, who had spotted talent in Amrita, the Sher-Gil family moved to Paris. In 1929 she joined The Grande Chaumiere under Prof. Vaillant. In 1930 Amrita joined Lucien Sion's studio at the Ecole Nationale des Beaux Arts. In 1931 she won a prize at the Ecole Nationale des Beaux Arts for her painting 'Portrait of a Young Man 1930'. She exhibited Young Girl at the Grand Salon and was elected associate member of the Societe Nationale.

In 1934 she decided to return to India (Simla) with her family and she set up her studio room. In 1935 she painted Hill Women & Hill Men.

In 1936 she had an exhibition with the Ukil Brothers at the Taj Mahal Hotel, Mumbai. In 1937 she travelled to the South of the country, to Cape Cormorin and then to Cochin, where she saw the Mattancheri frescos. She showcased her works in Delhi, Mumbai and Lahore. She won a gold medal for Group of Three Girls at the 46th Annual Exhibition of the Bombay Art Society at Jehangir Art Gallery, Mumbai. In 1938 she married Victor Egar in Budapest, Hungary. In 1939 they returned to Simla to the Sher-Gil home. Soon the couple left for Saraya. In 1940 while in Saraya she created very intense works like Swing, Bride, as she worked towards a major show.

In 1941 Amrita died at the age of 28.

Amrita had several posthumous shows in India and overseas and is one of India's most celebrated artists.

View More