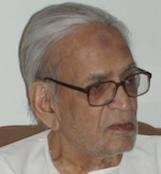 Jeram Patel
1930-2016

Jeram Patel was born in 1930 in Sojitra Kaira, Gujarat.



In 1955 he graduated from Sir J. J School of Art, Mumbai. In 1959 he received his National Diploma in design from the Central School of Art and Craft, London. In 1976, he was appointed professor at the Faculty of Fine Arts, M. S. University, Baroda, where he later became the dean.



He had several solo exhibitions:

In 2004 he had a solo exhibition at Gallery Espace, New Delhi. In 2006 he exhibited solo at Palette Art Gallery, New Delhi. In 2007 he had a solo show at Anant Art, New Delhi. In 2009 he exhibited solo at Shridharni Gallery, New Delhi. In 2011 he exhibited 'Recent Works of Jeram Patel' at The Harrington Street Arts Centre, Kolkata. In 2011 he was exhibited in Ethos V: Indian Art Through the Lens of History (1900 to 1980) at Indigo Blue Art, Singapore.

He took part in several group exhibitions:
In 1963 he took part in the Tokyo Biennale, Japan and the Sao Paulo Biennale. In 1967 he participated in a group exhibition 'Seven Painters' in London. In 1968, 1975, 1978 and 1981 he took part in the 1st, 3rd, 4th and 5th International Triennale at Lalit Kala Akademi, New Delhi. In 1973 he participated in 'Contemporary Indian Paintings' at Renwick Gallery, Washington DC, USA. In 1977 he participated in the XIV Sao Paulo Biennale, Brazil and in 1979 he took part in the 6th British International Print Biennale, London. In 1985 he participated in the 'Graphic Print Exhibition' at the Festival of India in USA. In 1989 he had a group exhibition at Jehangir Art Gallery, Mumbai. In 2005 he took part in 'Palette -Part II' at Palette Art Gallery, New Delhi and participated in 'Manifestations III' at Delhi Art Gallery, New Delhi. In 2006 he participated in 'Drawing Show an Act of Art II' at Priyasri Art Gallery, Mumbai. In 2008 he took part in 'Baroda: A Tale of Two Cities - Part I' at Sarjan Art Gallery, Vadodara and took part in 'Keep Drawing' at Gallery Espace, New Delhi.

He received several awards:

In 1960 he received a Silver Medal from the Bombay Art Society, Mumbai. In 1976 he won the National Award for Design in Delhi. In 1980 he received a fellowship from the Royal Society of Arts, London. In 1992 he received the Ravishankar Raval Award from the Government of Gujarat. In 1994 he won the Emeritus Fellowship from the Government of India, Delhi. In 1997 he received the Kala Ratna from AIFACS, New Delhi.



Jeram passed away in 2016.
View More