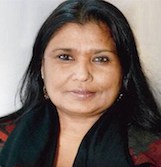 Sujata Bajaj
1958

Sujata Bajaj was born in 1958 in Jaipur. She finished First Class First in Bachelor of Arts and Master of Arts (Art and Painting) and got her Ph.D. in Fine Arts:Thesis on Indian Tribal Art. She also studied at Ecole Nationale des Beaux Arts, Paris.

From 1978 to 2016, Sujata had several solo shows in Mumbai, Kolkata, New Delhi, Pune, Bangalore and also out of country in Norway, Begium, USA, France and London.

From 1989 to 2012, she participated in several group shows in Mumbai, New Delhi, Kolkata and Pune.

In 1999, she had a joint exhibition with S .H. Razaa at Gallery 7, Mumbai.

She has been associated with organizations such as UNESCO and IIFA and displayed works on global platforms such as Indiart at Tokyo, House of Lords at London , Shanghai Art Fair at China, to list a few. Sujata Bajaj has held a long association with Tao Art Gallery. Her works have been a part of many solo and group shows across the years - Sacred Space (2000), Roop Adhyatma (2005), L' Ordre du Monde (2007) to name a few. She has been a recipient of multiple prestigious awards including the French Govt. Scholarship (1988- 1989), Bombay Art Society Award (1991), Raza Foundation Award (2003), and many more.

Sujata Bajaj spends her time between Pune, Norway and Paris.
View More