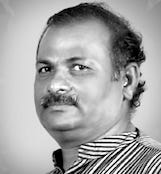 Rajshekhar Shamanna
1961

Rajshekhar was born in 1961 in Gulbarga is the place of the contemporary art world as the cultural center of north Karnataka.

He completed G.D. Art in 1983, A.M.C. in 1984 from "The Ideal Fine Art Institute", Gulbarga, and Master of Fine Arts (Painting) in Gulbarga University, Gulbarga in 1985.

He deeply moved by the social poverty, Calamities Violence and naturally these became this subject matters of his paintings. He has done numerous paintings in oil combining figurative and abstract forms to have his own style of paintings. He guided by Prof. V.G. Andani, who is a perennial source of his inspiration. He desires to work in different media like acrylic, Oil, water and drawing to represent his feelings on environment.

He participated and exhibited in so many shows and camps all over India. He was honored in the "Mysore Dasara Art Exhibition Award in 1980, 7th All India Art Contest Award by "South Central Zone Cultural Centre" Nagpur in 1993, Avantika Silver Medal in 1998.

Rajshekhar lives and works in Gulbarga.
View More