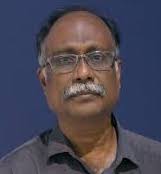 R M Palaniappan
1957

R M Palaniappan was born in 1957 in Devakottai, Tamil Nadu. In 1981 He graduated from Government College of Arts Crafts, Chennai in Fine Arts (Paintings) and Post graduate with Industrial Design (Ceramic). He further studied advanced Lithography in Tamarind Institute, USA during 1991 and was the Artist-in-Residence at Oxford University, London in 1996.

From 1979 to 2007, Palaniappan has had several solo shows in New Delhi, Gulbarga, Jaipur, Mumbai, Bangalore, Holland, Netherlands, USA and UK.

From 1982 to 2012, he took part in several group shows in New Delhi, Mumbai, Chennai, Bangalore, Pondicherry, Hyderabad, Bhopal, Kathmandu and Kolkata.


Palaniappan has received several awards, honours and residencies including the Fulbright Grant, Charles Wallace India Trust grant, International Visitorship programme of USIS, and Senior Fellowship, Government of India. Other awards included the National Award, International Prints Biennales of Bhopal and Taiwan and a RAZA Foundation Award.

He was invited by several international universities and art institutions to conduct workshops in print-making. He has curated 'Trends in Indian Art' organized by Lalit Kala Akademi, New Delhi in 1997. He served as International Commissioner in 1995 and member of the International Jury in 2008 for Bharat Bhavan International Prints Biennale. He was a board member and Life Trustee at Dakshina Chitra / Madras Craft Foundation and an art advisor at Kalakshetra Foundation, Chennai.

Palaniappan is currently Regional Secretary of the Lalit Kala Akademi, Chennai and lives and works there.
View More