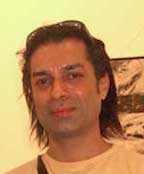 Nikhil Chaganlal
1961

Nikhil Chaganlal was born in in 1961 in Mumbai. He is a self taught artist who, over the years, has developed a unique technique of painting on Masonite.

In 1998, 2000 to 2004, 2006 and 2010 he had several solo shows in in Mumbai.

From 2000 to 2008, Nikhil has participated in several group shows in Mumbai, London, Singapore and Mauritius.

He uses acrylic combined with oil paints and chemical sealants used in the fishing boats industry. He almost always paints at night by candlelight, giving his work a gentle luminosity. The entire process is time consuming – the works are multi-layered, with each layer needing to dry in the sunlight for a day before he can work on it again. Once the layers have reached a significant impasto look and feel, the work is ready to be sealed chemically rendering the work 100% waterproof and scratch resistant to any kind of wear or damage.

His works reflect his journey into an inward retreat of a disturbed childhood. His body of work is a painterly autobiography of a suggestive presence of people from his past. Narrations hidden in objects and furniture sometimes reveal emotions of restless sexuality and aspiring spirituality. Chaganlal has had several solo exhibitions in India & abroad. His works are in many important private collections.

The artist lives and works in Alibaug.
View More