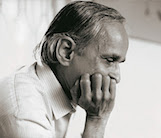 Prabhakar Barwe
1936-1995

Prabhakar Barwe was born in 1936 in Nagoan, Maharashtra.

From 1954 - 1959 he studied at Sir J. J. School of Art, Mumbai. In 1959 Barwe received his diploma from Sir J. J. School of Art, Mumbai.

Barwe was raised in an atmosphere that cherished the arts. His granduncle and sculptor, V. P. Karmarkar had been a distinguished modernist sculptor. His father, an artist worked in the art department of a major film studio. Post graduation he was drawn and inspired by the cultural activist Papul Jayakar into joining the Weavers Service Centre (WSC). From 1961 – 1965 Barwe was working at the WSC's Varanasi outpost in Varanasi.

From 1961 he has had 12 solo shows. In 1969 he participated in the Fifth International Young Artists Exhibition in Tokyo, Japan. In 1971, 1975, 1978 & 1982 he took part in; II, III, IV & V Triennales, New Delhi. In 1983 he took part in The Modern Indian Painting exhibition at Hirshhorn Museum, Washington DC. In 1989 he participated in IX Biennale Valpariso, Chile.

He received many awards:
In 1963 Barwe received an award from Academy of Fine Arts, Kolkata. In 1964 & 1968 he received an award from Bombay Art Society, Mumbai. From 1961 - 1965 and in 1969 he was conferred the Yomiuri Shimbun Award, Tokyo. In 1971 he won the Maharashtra State Award, Maharashtra. In 1976 he received the Lalit Kala Akademi Award, New Delhi. In 1976 He won the National Award from the Government of India. In 1988 he was selected under the International Visitor's program, Grant, sponsored by the USIA and was followed by a residency programme at Yaddo, America. He won the National Award from Lalit Kala Academy, New Delhi.

Barwe passed away in 1995.
View More