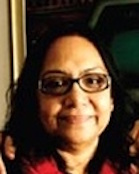 Shipra Bhattacharya
1954

Shipra Bhattacharya was born in 1954 in West Bengal.

From 1977 - 1980 she studied at College of Visual Arts, Kolkata under guidance of Shuvaprasanna. In 1975 she studied at the Government College of Art & Craft, Kolkata.

She had several solo exhibitions:
In 1981 she had her first solo exhibition in Kolkata. It was followed by more in Kolkata (1988, 1995, 2002, 2004), Chennai (1988, 1989, 1993), Dubai (1997, 2002), New Delhi (1995, 2002, 2006), Bangalore (2003) and Palo Alto, USA (2006).

She has participated in several group exhibitions:
From 1990 - 2010 she took part in various exhibitions in Mumbai, New Delhi, London, Singapore, Kolkata, Hong Kong, Dubai, Hyderabad and Germany.

Her themes are mainly figurative representations mostly female persons in scenic, urban or domestic environments, which give her paintings a third dimension. In her recent works she summarised their views through decorative elements and diverse details, dissolve the surface image parts.

She is married to the artist, Shuvaprasanna. Both are founders of the Arts Acre Foundation, a foundation that is committed to the construction of an art centre in Kolkata, the promotion of art and culture in India to target.

She lives and works in Kolkata.
View More