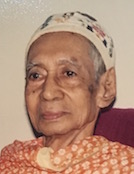 Somnath Hore
1921-2006

Somnath Hore was born in 1921 in Chittagong (Bangladesh).

In 1957 Somnath received his Diploma in Fine Arts, Government College of Art and Craft, Kolkata. The artist Dinkar Kaushik recommended Somnath to go to Santiniketan where he became the head of Graphics and Printmaking Department at Kala Bhavan, Visva Bharati University. In Santiniketan, his close associates were painter K. G. Subramanyan and the sculptor Ram Kinkar Baij.

In 1970 while in Santiniketan Somnath Hore began sculpting in bronze.

He had several shows:
In 1956, 1957 - 1958, 1961 - 1962, 1968, 1991, 1992 and 1995 he had several solo exhibitions in Kolkata. In 1960, 1963, 1965, 1967 and 1973 he had solo shows in Delhi. In 1988 he had a solo exhibition 'Sculptures and Sketches' at Kala Yatra in Bangalore. In 1999 he showcased 'Anguish Absorbed' in Mumbai.

Somnath participated in several group shows in India and overseas:
In 1986 he participated in 'Visions' at Birla Academy of Art and Culture, Kolkata. In 1991 he participated in National Exposition of Contemporary Art at NGMA, New Delhi. In 1993 he took part in 'Wounds' at Kolkata and NGMA in New Delhi. He participated in a group exhibition 'Contemporary Indian Paintings' in Chester and Davida Herwitz Collection Part II in USA. In 2003 and 2004 he participated in group shows 'Manifestations' & 'Manifestations II' at Jehangir Art Gallery, Mumbai and New Delhi. In 1960 he participated in Lugano International Graphics Biennale, Switzerland. In 1962 he participated in Venice Biennale, Italy. In 1963 he participated in Sao Paulo Biennale, Brazil. In 1966 he took part in the International Association of Plastic Arts Exhibition in Tokyo and Kolkata. In 1968 he took part in the first Triennale of World Art at Lalit Kala Akademi, New Delhi. In 1968 he took part in the Warsaw Biennale of Graphic Arts, Poland.

He was awarded and honoured: In 1960 he won National Award (Painting) from Lalit Kala Akademi, New Delhi. In 1963 he won National Award (Graphics) from Lalit Kala Akademi, New Delhi. In 1984 he was honoured Professor Emeritus in Santiniketan. In 1984 Somnath was awarded Gagan–Abani Award in Kolkata. In 2004 he was awarded Lalit Kala Ratna Puraskar from Lalit Kala Akademi, New Delhi.

Somnath Hore passed away in 2006 in Santiniketan.

In 2007 - 2008 his works were posthumously exhibited in Mumbai, New Delhi and Kolkata. Lalit Kala Akademi, New Delhi in collaboration with the Embassy of India in Aman exhibited 'Moderns' at Royal Culture Centre in Aman, Jordan. In 2009 'Wound Series' was exhibited at Aicon Gallery in London and in Kolkata. In 2010 a retrospective of prints by Somnath Hore were exhibited in Mumbai. From 2011 - 2014 Somnat Hore: Prints, drawings and poster were exhibited in Mumbai, Kolkata and New Delhi. In 2015 Grey Art Gallery, New York University, New York organised 'Abby Grey and Indian Modernism: Selections from the NYU Art Collection'.

View More