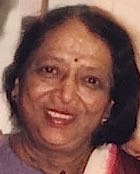 B. Prabha
1933-2001

B. Prabha was born in 1933 in Bela, Maharashtra.

Prabha studied at the Nagpur School of Art. In 1954 she joined Sir J. J. School of Art, Mumbai. In 1955 she received her Government Diploma in Painting and Mural Painting.

She had solo shows:
In 1956 she had a two person show with her husband, B. Vithal in Mumbai. In 1959 and 1961 Prabha had solo shows in New Delhi. In 1993 she had a solo exhibition, 'Shradhanjali', in memory of her late husband Vithal in Mumbai.

She participated in various group shows:
In 1957 she participated is a group show in New Delhi. In 1958 she participated in the Bombay State Art Exhibition in Mumbai where she received an award. In 1996 she participated in 'Contemporary Indian Painters 1996' at Jehangir Art Gallery, Mumbai.

Prabha passed away in 2001 in Nagpur.

She was posthumously exhibited in India and overseas: In 2008 and 2011 she was exhibited in Mumbai. In 2008 she was showcased in 'Winter Moderns' at Aicon Gallery, New York. In 2011 she was exhibited in group shows in New Delhi; Indigo Blue Art, Singapore and Rubin Museum of Art, New York. In 2012 she was showcased in 'Art for Humanity' at Coomaraswamy Hall, Mumbai. In 2016 Prabha was showcased as a part of a group show titled as, 'The Melting Pot' - 100 works by India's Leading Modern and Contemporary Artists at Gallery 7, Mumbai.

View More