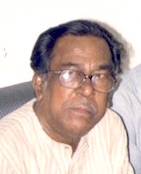 Shyamal Dutta Ray
1935-2005

Shyamal Dutta Ray was born in 1935 in In Ranchi, Bihar.

In 1955 he received his diploma in Painting from Government College of Art and Craft, Kolkata.

He has held several solo shows in London, Bangalore, Mumbai, Paris, Kolkata and New York.

Shyamal has participated in group exhibitions in Algeria, 1976, Australia 1976, the Third World Biennale of Graphics, London and Baghdad 1980 and the Havana Biennale, Cuba 1986, Saffronart in Hong Kong 2001.

He received many awards:
In 1958 he won the Gold Medal from Academy of Fine Art, Kolkata. In 1968 he won the Rabindra Bharati University Award, Kolkata. in 1968 he became the Founder Member of Group 8, Kolkata. In 1972, 1973, 1975, 1978 he won the Birla Academy of Art and Culture, Kolkata. In 1982 he received the National Award from Lalit Kala Akademi, Delhi. In 1988 he won the Karnataka Chitrakala Parishath, Bangalore and won the Shiromoni Puraskar.

He passed away in 2005.

He was posthumously exhibited:
In 2006 he was exhibited in 'Tribute' at Aicon Gallery, New York and in 2008 he exhibited in 'Shyamal Dutta Ray Memorial Show' at Akar Prakar, Kolkata. In 2008 he was exhibited in 'Post Independence Masters' at Aicon Gallery, New York. From 2008 - 13 he was posthumously exhibited in several exhibitions in London, Hempstead, New York, Kolkata and Mumbai.
View More