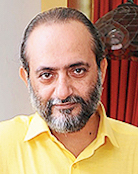 Sanjay Bhattacharya
1958

Sanjay Bhattacharya was born in 1958 in Kolkata.

In 1982 he received his Diploma in Art from Government College of Arts and Crafts, Kolkata. After graduation, Sanjay joined the Clarion Ad agency as an illustrator. Later he joined Hindustan Thomson Associates where he had the freedom to freelance and created a series of watercolors for his first exhibition, based on architecture and still life.

He has exhibited in shows in India & abroad:
In 1988 and 1989 he had solo exhibitions at Gallery Aurobindo in New Delhi and Chitrakoot Art Gallery, Calcutta. In 1988 he had a solo exhibition at Dhoomimal Art Gallery, New Delhi. In 1992 he had a solo exhibition at Jehangir Art Gallery, Mumbai. In 1994 Sanjay showcased 'Rajiv Gandhi: Landscape of a Man' at National Gallery of Modern Art in Mumbai and at Jehangir Art Gallery, Mumbai. In 2002 he had a solo show 'Painting Beyond Words' at Arts India, New York.

Sanjay is recipient of many awards:
In 1981, 1982, 1983 and 1985 he won awards from National Exhibitions, Calcutta. In 1983 and 1988 he participated in All India Watercolour Exhibitions at AIFACS and won awards. In 1988 - 1989 Sanjay was recipient of an award at Sahitya Kala Parishad Annual Exhibition. In 1988 he won an award at Second International Asian-European Art Biennale in Ankara, Turkey.

He lives and works in Delhi.
View More